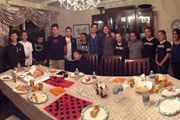 Things are a movin', thanks to a great group of kids, an equally great group of parents, and a great GOGA Advisor—Matia Kostakis. One of our Young Adults, Matia has immersed herself in the community, and is coordinating activities for our youth. Read on.
Sunday's GOYA gathering was a big success thanks to you all for bringing your kids on homework heavy sunday evenings. I'd like to also thank the Kontonis family for hosting our first meeting of the year and to Fr. Steven for coming out and joining us. I hope we can maintain this attendance every month.
Since December is a very busy time of year for everyone, we will do the December meeting off-site. Sunday, December 11th at 3pm at the Union Sq. Ice Rink (is this convenient given when dance practice ends?) for ice skating/pizza/hot chocolate/christmas picture by the tree.
As part of the season of giving, I think it would be nice if we have the kids bring an unwrapped toy for Toys for Tots drive or set up a coin drive or bake sale during coffee hour on Dec. 4th or 11th for Make a Wish Foundation. Toys for Tots and Make a Wish Foundation have been charities my family and I have always been a part of and a really nice reminder of how many kids are not as fortunate as we are. Toys For Tots will have a drop off near union sq, so we can plan on that or we can try the coin drive/bake sale at church. It would be nice for the kids to decide, but we didn't get to that on Sunday. If you could ask your sons and daughters which they prefer, I can help set it up.