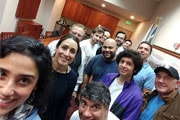 Thank you to everyone who attended and help promote the Metropolis Young Adult Fall Retreat in your parish and to your local young adults. It was another inspirational gathering of 55 young adults coming together to learn more about their faith and strengthen the bonds of the Orthodox West Coast family.
Here is the video from the Fall Retreat: https://vimeo.com/190924377
Thank you to all the parishes who send their Youth Director/Pastoral Assistants to these retreats. It makes a huge difference having them there since it is an opportunity for them to nurture relationships with the young adults in their regional areas, and then invite those young adults to attend their parishes and continue that ministry on a weekly/monthly base. These Metropolis young adult retreats are meant to compliment the ministry happening at the parish level, and I hope you are all able to fully benefit from them.
Feel free to share this video with your parish and other young adults seeking to stay connected to the Church and meet new Orthodox young adults.
The next young adult retreat is the Metropolis Young Adult Winter Retreat in Lake Tahoe, January 13-16, 2017. The max capacity is 60, and we always sell out, so make sure to register early! Our speaker will be Christian Gonzalez from the Archdiocese Department of Youth & Young Adult Ministries (Y2AM). Attached is the flyer.
For more information and to register online, please visit:
http://www.youth.sanfran.goarch.org/editor/young-adult-winter-retreat-in-lake-tahoe-2
Facebook Event Page:
https://www.facebook.com/events/553806771478512/
Check out the 2016 Young Adult Winter Retreat Video:
https://vimeo.com/153430756